The act of games creation demands a serious amount of hard brain thinking and tinkering, mostly indoors, looking at neon screens between stacks (& stacks) of graph paper and empty ramen cups. This makes games development rather lonely work despite it being the most engaging and interactive of all mediums invented by humankind.
badonkadonk tries to be a casual meetup where creators can be amongst other creators, whilst creating. for when you want feedback from peers about your recent ludum dare, share your latest monster creation, found sound effects, PnP demos or just comparing pathway algorithms, talk shop, play each others' games or just eat bad pub food together. Also, we're curious and want to know who else is out there making stuff.
We're just people who love making games/things/gaems/stuff/gmase!
Even if no one turns up, the organ isers (yup, that's us below) should always be present. Except for yog - he guards the house when we're away.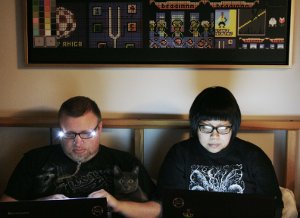 make gaems or die tryin.